In addition to the numerous projects we have shared, you can also review Video Testimonials
Video Recommendations on YouTube
We have recommendations on Linkedin:
Bill Ganz Linkedin Recommendations - Click Here
Sabrina Gibson Linkedin Recommendations - Click Here
---
Case Study: Corporate Productivity Company
Tell us briefly what your company does.
Applied Concepts Creativity provides RobotLab's unique learning and thinking concept that is deployed through the power of cloud computing. Organizations learn to develop High Performance Teams using Creative Problem Solving. Global teams learn how to apply the skill of creativity to solve wicked problems and they learn how to innovate.
Before doing Social Networking – what were some of your concerns and challenges in your business?
Our primary concern was that we were invisible in the global marketplace. Lars Ringe, Founder of RobotLab and I are small business owners. Like many small business owners, we had to manage our budget very carefully. We had to figure out how to become visible to build our credibility. We also needed a social networking system so potential partners and clients could find us on the Internet.
After implementing Social Media and Social Networking strategies this is what happened.
At the beginning I did not have any social media in place. I did not even have a blog. I learned how to set up my blog and implemented the strategies taught to me by Sabrina Gibson. Six short months later I was selected to be a professional guest blogger at Europe's premier innovation conference. I wrote nineteen blog posts about design thinking in three days. The conference was the Front End of Innovation, an event sponsored by the International Institute of Research. I immediately became a known name in the field of creativity and innovation.
Recognizing the power of social media and social networking and keyword searches, my partner, Lars Ringe, and I decided to write a white paper for the International Association of Science Parks. Our intent was to have it published in their library because this would allow us to tap into the social networking done by all the science parks. We also used our own social networking platforms to promote our white paper. We succeeded beyond our wildest dreams.
Our white paper was published and if you Google, Mastering Creative Problem Solving, 2.4 million results appeared and we were listed in the #1 spot on the first page. If you Bing, Mastering Creative Problem Solving, out of 18 million results we were once again the 1st result on the 1st page. Almost one year later we are still #1 on the first page out of millions of results.
What specific things showed up?
We came to the attention of Microsoft and they sponsored a conference showcasing RobotLab. We presented our success with global online real time knowledge sharing using teams from Vestas Wind Systems A/S and the Indian Institute of Management. We demonstrated how in a flat world global teams can achieve their full potential by applying creativity and innovation to become virtual high performance teams.
I learned how to create my own videos and to introduce myself using YouTube. Here is a sample:
On Twitter I now have well over 1,000 followers. I focus on quality followers. This means they are interested in learning about how to become creative on demand by maximizing the power of their brain.
On LinkedIn, I have over 440 quality connections.
We are listed in first place on the first page out of millions of results on Google and Bing.
I am honored and privileged to continue to be a guest blogger for the premier innovation group in the world.
We achieved visibility in the global marketplace.
We have new partners.
We have new clients.
We are now closing significant sales.
Blog address: http://DevelopYourCreativeThinking.com/
Main keyword: creativity
Website: http://www.AppliedConceptsCreativity.com/
Website: http://RobotLab.dk/
LinkedIn: http://www.linkedin.com/in/ConnieHarryman
Twitter: https://twitter.com/CreativeConnie
Name: Connie Harryman
Company Name: Applied Concepts Creativity
_______________________________________________________________________________________________________________________________________________
Case Study: Automotive Sales Recruiting and Training
As a single mother of four and the sole provider, having a reliable company guide me online was essential. Through your guidance I was able to develop the theme, content and hone in on my target market. From there we built a training site for the automotive industry.
Because of the success we had with that, we continued to enlist your expertise with our Social Media efforts. I had been living in the dark when it came to blogs and social networking. After a short amount of time into the program I felt confident enough to create an account on Twitter. I was nervous about chatting to the world but the support, advice and practical knowledge you gave was the backbone that moved me forward to follow-through with my personal commitment.
Your mentor program has created a huge impact for my business and created a massive buzz around what I am doing. I more than got my money's worth in the second month alone!!
I owe the growth of my business to YOU and your program. I have been reasonably consistent using social media and attracted a fine following of folks specifically in my niche market.
I truly believe that I am miles ahead in my business because of the social media program I took with you 3 years ago now. The principals you taught then are the fundamentals I still follow today.

I am forever grateful to you for creating a program that generates results. Your passion and kindness are so inspirational. You are the Rock Star of all the Rock Star Experts.
Cathy Aron
ProfitDrivers.CA
_______________________________________________________________________________
Case Study: Publishing Company
We are a publishing company that publishes the writings of doctoral scholars. Before doing Social Networking with Sabrina Gibson and her team, we weren't well known, nor did we have a clear focus of our target markets. We lacked an understanding of social media as part of our strategic business planning. After implementing the Social Media and Social Networking strategies we are far more visible to our target audience. We now receive calls, emails, and snail mail of those who are interested in us.
We have quite a presence online where people can google our name and many websites, video channels, blogs and 'stuff' shows up. Many people have commented we are now easy to find

Blog Address: http://www.dissertationpublishing.com
Main Keyword Phrase: Dissertation Publishing
Website: www.lentzleadership.com
The Lentz Leadership Institute
Dr. Cheryl Lentz
_________________________________________________________________________________
Case Study: Social Networking Coach and SEO Expert
I work with real estate agents and other small business owners helping them establish an online presence. Before taking Sabrina Gibson' Mentoring program I was floundering - working fairly steady, but not moving forward. Sabrina's training cut the learning curve by at least 50%.

Back in September of 2011 I decided to offer a series of free SEO and Social Networking training webinars, one each week for 10 weeks in a row.

At the conclusion of that 10 week series I offered basically the same set of training session with a more hands-on approach including; a live webinar (and a recording of that webinar) with an in-depth training guide. I had six students in that training series and that triggered the need for a Members-Only password site so that those students would have access to the training 24/7 for six months.

I am still offering free training webinars twice a month. My contact list has tripled and continues to grow every month, and I am establishing myself as a local expert in this geographical area. AND most importantly my income has increased by 50% (so far).

My main keyword is - real estate marketing ideas

Lynn Albro, SEO & Social Networking Coach
http://bestrealestatemarketingideas.com
__________________________________________________________________________________
Case Study: Organizational Development Consultants
Stargue is a professional services firm and supports business owners or C level executives in particular in making transitions to better performing business organizations towards increased quality of life all members of their organization. While maintaining the current organizational structure, we help you achieve a shared Vision of the future of your organization as you would like it to be. Based on a clear understanding of your organization's purpose, its guiding beliefs, the current environment, and above all the needs of its customers and stakeholders, this Vision becomes a guiding star towards your business's optimal future. Once we understand this we help employees build new abilities to carry out the steps leading to the vision. We prepare the team to recognize trends, threats and opportunities that affect the organization.
Before doing social networking we had issues as how do we take our business development process to may take well up to 3 years to produce a prospect to leverage the internet/social media find prospects that are already at the level of understanding and need to become our client.
After implementing your Social Media and Social Networking Solutions we did improve our ability to communicate more effectively with our target market in being more focused and effective at leveraging social networking techniques on- and offline.
As a result we have gained more recognition and increased our exposure online. We have gained over 500 followers on Twitter and 1000 connections on Facebook. This exposure online has helped us to be included in an upcoming books, have several new business ventures, a government project and a TV network distribution license, to name a few.
Angelo Luidens
Website: http://www.stargue.com
Blog: http://www.starintegrator.com
______________________________________________________________________________
Case Study: Video Marketing Specialist
My company is involved with personalizing yours and your company's message through video communication and branding. You could say we dress your video for success. Where your video goes so does your branding. If you teach, train, or coach, a vehicle for delivering that communication is vital to the success of one's business.
I had many concerns before doing Sabrina's Social Networking class, namely how to go about putting a blog together, starting conversations with people on social networks that might lead to either collaboration or new clients, building my list. I was so intimidated by it all.
As I went through the class step by step I realized that it was no different than meeting people face to face. It is my nature to offer assistance or connect people to those they should meet and I do that quite naturally in person. So, I learned how I could actually do that through Social networking as well. I also became more particular about who I connected with. It became more strategic. And, I'm not as intimidated anymore.
As a result my list grew by at least 800. I got really clear on my target market and when I did that it was much easier to convert into business by 50%. My online following grew organically wheremore people were seeking me out. I became more of a resource. My main keywords are video communication.
My company is Relate To Succeed and my website is www.igetpaidinstantly.com
Thanks Sabrina!
Carol Pilkington
______________________________________________________________________________________________________________________________________________
Case Study: Hair and Scalp Specialist
Being certified as one of two of Georgia's only certified trichologists leaves a ton of opportunity to educate people with hair and scalp disorders and also other stylists who want to offer solutions to their clients who are experiencing these types of issues. This is a brand new business for me.
With just one simple Social Media Solution that Sabrina Gibson and her team shared with me I was able to clearly identify my ideal client: Who she was, where she shopped, what were her challenges and how she could benefit from my services. I got so clear that I felt as if I could read her mind and speak to her. With this knowledge, I was able to create a 2 day training, that earned me $5,000 extra in two months.
In addition, your team was able to show me how to tap into the specific keyword phrase "What is a Trichologist". This research allows me to tap into a huge market of people who are already searching for my products and services.
I am excited to learn and implement more of your Social Media Solutions. From what you have already shared with me, it has generated a profitable result.
Yvonne Solomon
________________________________________________________________________________
Case Study: Web Developer and Green Business
My company develops high end custom web sites and has helped over 300 companies over the last 14 years. The first thing that involvement with Sabrina and Social Network Marketing was a shift to using our base skills and an interest in the environment to help businesses learn how to be Green (environmentally friendly) and more importantly, how to market themselves as being green.

Before getting involved in social network marketing, I noticed our market was dwindling. With the depressed economy, people didn't want to spend a lot of money on their web sites.
As a result of the Social Media Solutions that Sabrina Gibson and her team provide we have been able to grow our green marketing business AND expand our web development business. In addition, we have quadrupled our Facebook reach, effectively integrated Twitter into our marketing and use it as market research.

Keywords: Green in Business
Website: www.BeGreenInBusiness.com
Blog: www.BeGreenJournal.com
_____________________________________________________________________________
Case Study: Hair Loss Specialist
We provide men, women and children solutions for their hair loss problems.

I had very little understanding when it came to social networking or how to organize my keywords. Most of the terminology was totally over my head. For example, I did not know what a landing page , opted in page or sales page was. I did not understand how to begin putting together the information until now. I learned so much from Sabrina Gibson's Social Media Solutions. Overall, I enjoyed the training and enjoyed working with Sabrina and her team.

Because of what I learned from your training I was able to send letters to various networks explaining how I help women with hair loss problems and was interviewed by KTLA – a local TV Station. I was also asked to blog on a regular basis giving clients tips on proper hair care.
Joanne Washington
www.BaldSpotsOnHead.com
_____________________________________________________________________________
Case Study: Mobile Marketing Consulting Firm
Cheryl Lynn, founder of Cheryl Lynn International, Hamilton, Ontario Canada
My love for entrepreneurship began at an early age and never faltered. Beginning my entrepreneurship way back in the late 80's, when brick and mortar businesses where thriving, I owned many businesses in the service marketplace such as payroll, accounting, cleaning, franchise and tanning and spa salon before founding Cheryl Lynn International in 2009. I bring a well-seasoned and unique style to entrepreneurs. Now I specialize in full-service custom support to my clients through Mobile and Local Internet Marketing strategies and tactics. I help them blend offline and online marketing to gain domination in their local communities, increased client base and revenues.
I am a people person with a big heart, I enjoy working with entrepreneurs of small to medium size companies since I understand their needs as being one myself for over 20 years. However, at the end of 2009 I lost them all due do to embezzlement by one of my so called "trusted" employee from our local church. I was devastated to say the least. The hardest lesson learned was if I had the processes and outside audit systems in place this would not have ever happened. For the second half of my life I decided to still work with local brick and mortar business owners, as this is my passion. Now I would work out of my home office with no employees and I would outsource tasks to only VA's (entrepreneurs themselves).
Knowing that the business world needed to focus on a new era of marketing, platform marketing, I embraced the teaching of such a niche from a few mentors that would help me get Cheryl Lynn International off the ground. I hired two mentors and 3 coaches. Four of whom where strictly on Mobile and Local Internet Marketing but the other mentor was Sabrina Gibson. I embraced her Social Media Solution program which was all about strategies and tactics for my new online business. This program was the BEST year long program I had ever been studied in terms of showing me how to work with TONS of tools to put them together and launch my Mobile and Local Internet Marketing expertise.
Sabrina is an AMAZING coach. She really knows how to put together a business for the internet. From website creation, to email marketing, to email optins, to social media networking, to blogging, to webinars to many, many, many other secrets and tips, Sabrina knows how the internet works. If it wasn't for Sabrina and her teachings I would be so many years behind in launching my business online and would not be in a place where I could call my business "Open" for business within a year. Her teachings are full of content and step-by-step processes on how to get your business making $$$ online. Thanks for her teachings I am now open with a full service online business helping brick and mortar business drive local foot traffic to their front doors within the new platform of marketing and advertising called Mobile.
I would recommend any solution that Sabrina puts together. If you are interested in knowing the exact step-by-step process within the online world of business, her solutions are the best. If it wasn't for Sabrina and her teachings, I would have struggled longer, my business wouldn't have been operational within a year. I probably would have spent thousands upon thousand of hours and dollars trying to train with various people and more importantly would have ended up with over hundreds of programs etc. Sabrina made it all possible under one roof. I call her my hero!
Blog: http://www.cheryllynninternational.com/blog
Main Keyword: Mobile and Local Internet Marketing
Main Keyword Geo targetting: Mobile and Local Internet Marketing Hamilton Ontario
Cheryl Lynn
http://www.cheryllynninternational.com
______________________________________________________________________________
Case Study: Advantage Rent A Car

Client Success Case Study
This document is an overview of marketing services offered to one of our clients over a period of time. This is not free to distribute to anyone under any circumstances.

Pay Per Click Advertising

Summary
Our pay-per-click philosophy can be summed up as follows: we maximize the profitability of our clients' PPC campaigns by constantly improving the profitability of each and every keyword, ad and landing page in their account.

Where some internet marketing firms manage PPC accounts on a portfolio level, we manage them on a keyword level. Though this requires considerably more work to implement, it results in substantially better results as each keyword, ad and landing page is contributing to the overall profitability of the campaign.

Strategy
Our pay-per-click strategy consists of two main components: account setup and ongoing account management. Here is how we implemented each component for Advantage Rent a Car.

Account Setup
The purpose of the initial PPC account setup is to set the foundation for a campaign that yields as high an ROI as possible.

Step 1: Extensive Keyword Research
Using a variety of tools (including our own in-house systems) we identified more than 100,000 keywords related to the car rental industry. This step is critical because quite often the revenue generated from a PPC campaign is in direct proportion to the number (and quality) of keywords being bid on.

Step 2: Ad Copy Creation
After spending some time researching and understanding the car rental industry we began crafting ads that relate our client's unique selling proposition. Because of how competitive this industry is it was very important to find a way to differentiate our client from other car rental companies.

Step 3: PPC Account Architecture
In this step we planned and implemented the setup of 54 campaigns and more than 800 adgroups to ensure a very tight message to market match. We also made sure that these campaigns were geo-targeted to the appropriate cities where necessary.

Step 4: Implementation of Tracking Systems
Prior to launching the PPC campaign we had conversion tracking scripts installed on the client's website. This allows us to measure the profitability of each keyword in the account and make intelligent decisions based on this data.

Ongoing Account Management
The purpose of this aspect of PPC management is to continually improve the bottom line of our client by implementing several strategies on a weekly or monthly basis.

Step 1: Managing Bid Price
By constantly updating the max bid price of all keywords we consistently improve the overall profit of the PPC account. For this client we took the following actions on a weekly basis (or more frequently when necessary): we deleted under-performing keywords; we reduced the max bid price of keywords that have generated sales but were not profitable; and we improved the margins on the already profitable keywords by adjusting bid price, position and ad copy.

Step 3: Split-Testing Ads
We're constantly testing new ad copy to beat our previous successes. But unlike other internet marketing firms we'll never sacrifice ROI for higher click through rates (or higher conversion rates for that matter). The system we use ensures that the winning ad chosen in our split-tests is the one that contributes the most to the bottom line. This strategy turned out to be extremely effective for Advantage Rent A Car due to the high search volume in their market.

Step 4: Negative Keywords
Negative keywords are critical to maximizing the profitability of any PPC campaign. In this step we used various techniques to identify the best negative keywords to use for each campaign in the PPC accounts. This allowed us to save thousands of dollars per month on wasted search traffic for our client.

Step 5: Landing Page Testing
In this step we worked with the client to create a variation of their existing landing page that capitalized on a new promotion they were doing. This test resulted in a significant increase in conversion rate which in turn allowed us to bid more per keyword and dramatically improve the profitability of the account.
In addition to these regularly performed tasks we also implemented systems for reducing click fraud, saving our client tens of thousands of dollars in the process.

Results
The following graph illustrates the results we achieved by implementing the above strategies over the course of a little over 4 months. Each data point on the graph represents the weekly gross profit generated by our PPC efforts.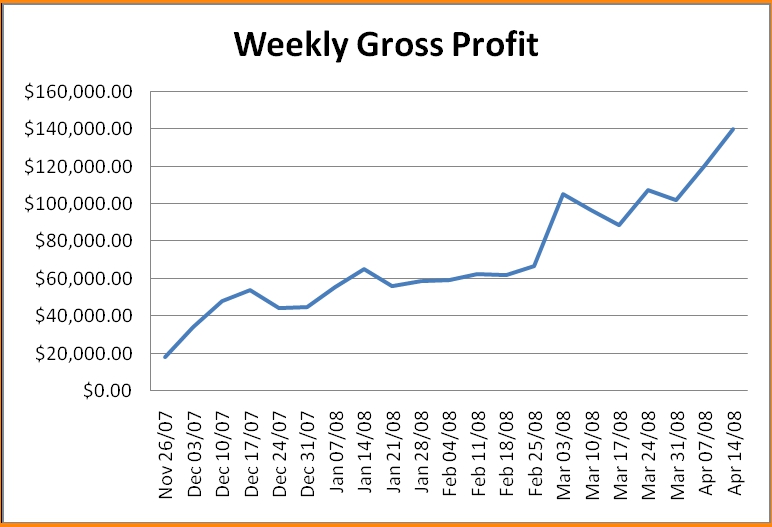 As you can see we managed to increase the gross profit generated via PPC advertising by 600% during this time period. And we're not done yet. In the next 6 months we feel we can realistically double this company's current profit by continuing to refine their PPC accounts.
Search Engine Optimization
Summary
Search engine optimization begins once sufficient keyword research has been done to determine which keywords get the highest search volume and a pay per click test has been done to determine which words convert to sales most often.
This account was no different. Once we determined which words converted, we put systems in place to track the results of optimizing for these key terms. Although we found over 30,000 top converting keyword phrases, we optimized for the top 364 phrases.
Strategy
The search engine optimization strategy consists of two parts: on page optimization and off page link building. We began with the 134 location pages and the main page optimizing for the top phrases. Each page had 15 unique locations within the content to be optimized as well as the internal linking structure of the site itself.
The second portion is the link building which is ongoing and never ends. This includes, but is not limited to blogging, social bookmarking, press release optimization, directory submission, article writing and link partnering and brokering.
Client Ranking Reports For Keywords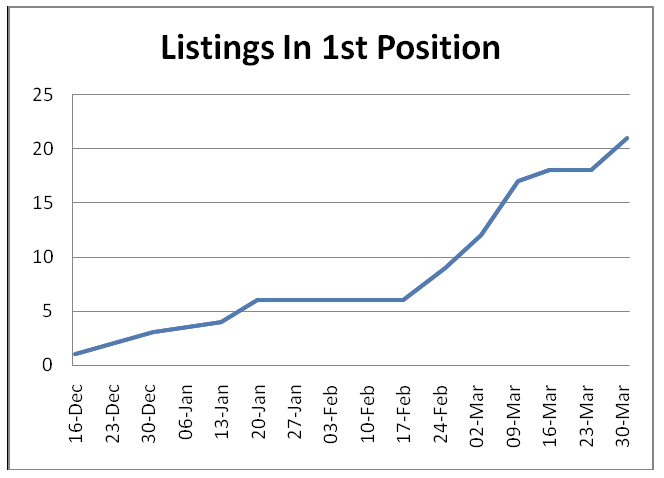 Overall Lift & Traffic Boost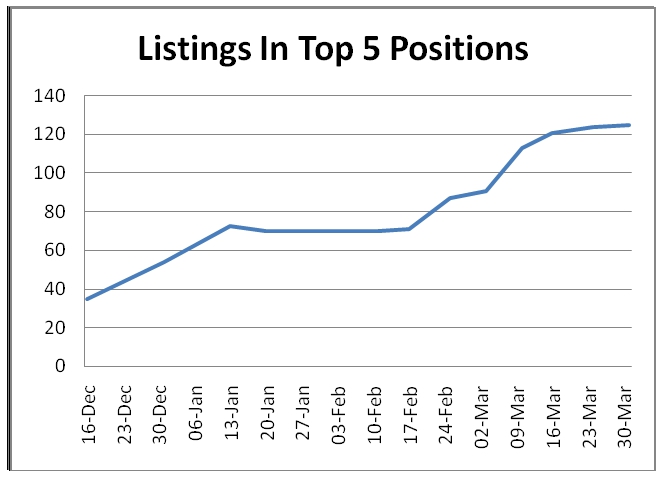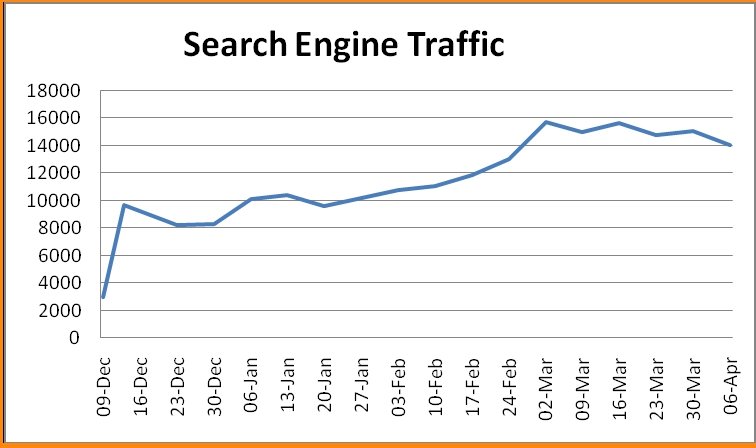 Results
When we began working with Advantage they held 1 first position on Google and 35 top 5 search page positions. Now they hold 21 number 1 spots and 125 top 5 positions at the top of the search results. They began with 43 top 10 and now have 194 top 10 positions.
This rise in rankings corresponded to an organic search traffic increase of 368% from 3,000 unique visitors per week to over 15,000 per week. In addition it has resulted in an estimated increase in revenue of $56,000 per week (from $15,000 to $71,000).